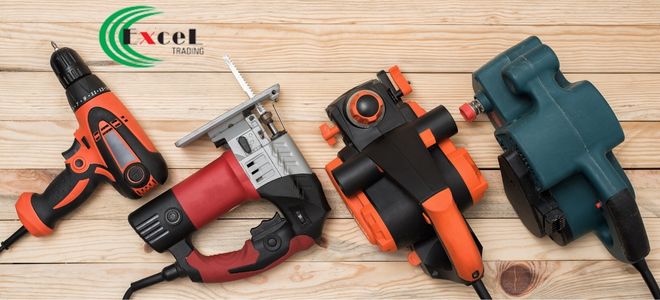 All About Power Tools in the UAE: What You Need To Know
Power tools are becoming increasingly popular in the UAE as they offer convenience and ease of use. From drills to saws, power tools can make any task easier and faster. In this article, we will discuss the different types of power tools available in the UAE and their various uses. We will also look at some tips for using power tools safely and effectively, as well as some of the best brands available in the market. So if you're looking for a reliable and efficient way to get your projects done quickly, then read on to find out more about power tools in the UAE! The UAE is one of the leading markets for power tools in the Middle East. With its rapidly expanding construction industry, the demand for power tools has been increasing steadily over the years. This market is expected to grow even more in the coming years as more projects are launched and businesses invest in high-quality equipment. The UAE power tool market consists of a wide range of products, from cordless drills to saws and grinders. These tools are used by professionals and DIY enthusiasts alike, making them an essential part of any toolkit. With advancements in technology, these tools have become more efficient and reliable, allowing users to complete tasks faster with greater accuracy. This makes them a great investment for anyone looking to upgrade their tool collection or start a new project.
Power tools are essential pieces of equipment used in construction, manufacturing, and other industries. They provide a level of convenience and accuracy that is not possible with manual tools. From drill presses to saws, there are many different types of power tools available today. By understanding the different types of power tools available and their uses, you can make sure that you are using the right tool for your job. Power tools are used to provide a level of convenience and accuracy that is not possible with manual tools. Power tool use has increased in recent years due to the decrease in manufacturing and construction. A power tool is a type of tool that uses an electric motor, mechanical power transmission device, or some combination of these two in order to perform mechanical work. There are many different types of power tools available today such as drills, saws, sanders, grinders, and more.
Where to Buy Quality Power Tools in the UAE
Are you looking for quality power tools in the UAE? You've come to the right place! Excel Trading is home to a wide range of power tools, from hand drills and saws to angle grinders and air compressors. With so many options, it can be difficult to know where to buy quality power tools. To help you out, we've compiled a list of the best places in the UAE where you can purchase quality power tools. From online stores and specialty shops to hardware stores and big-box retailers, we'll make sure you find exactly what you're looking for. So whether you're looking for a new drill or an entire workshop setup, we've got your back!
Power tools are extremely useful in the UAE, but they can also be dangerous if not used properly. That's why it's important to follow some basic safety tips when using power tools. This article will provide some useful tips on how to safely use power tools in the UAE. From making sure you have the right protective gear to understanding the proper way to operate your tool, these safety tips will help ensure that you and those around you stay safe while using power tools in the UAE. Always wear protective gear when using power tools. Wearing protective gear can help reduce the chance of injury when using power tools in the UAE. Protective gear is available for hands, feet, and heads that can be found at most home improvement stores. It's recommended to use gloves and goggles when operating power tools with rotating blades, such as saws or drills. Gloves are also important to protect your hands from getting cut by saw blades or damaged by vibration while using a drill.
The Latest Innovations in Power Tool Technologies and How It Will Affect Industries
Power tools have been around for centuries, but the latest innovations in power tool technologies are revolutionizing the way industries work. With advancements in battery technology, brushless motors, and digital controls, these tools are becoming more powerful and efficient than ever before. As a result, they are being used in a variety of industries to increase productivity and reduce costs. From construction to manufacturing to automotive repair, power tool technologies are having a profound impact on how we do business. Cutting power and speed with brushless motors. Brushless motors are the newest power tool technologies. Brushless motor technology is a way of powering electric tools with a combustion engine or fuel cell while eliminating the need for cables and brushes that cause friction. This innovative design has led to more power, less noise, longer life, and better torque in electric tools. By reducing friction on the tool's internal gears and shaft, brushless motors have increased productivity by 10% over traditional models. Currently in use by over a third of all drill manufacturers worldwide, these technologies are changing how industries work worldwide!